I have spent a week of my holiday in Whanganui with my sister Sian, attending this fabulous fibre arts conference. We were caught by the newspapers cameraman on day one, viewing the 10x10's that conference attendees had brought with them, for sale.
Below is the newspaper article, which is a good summary of the event.
I will add a few photos of my work shortly.
Overseas experts head to city for bit of a crafty time
By Anne-Marie McDonald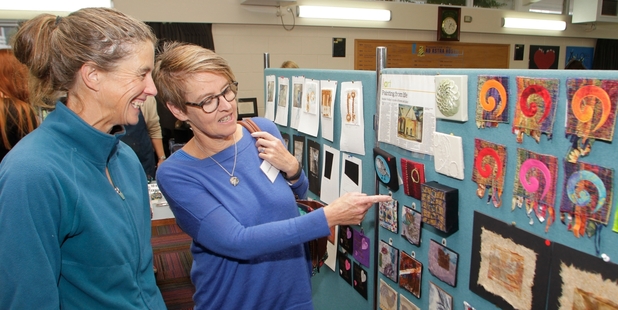 About 60 women from as far away as Canada are meeting in Wanganui this week for five days of crafting and socialising.
Fibre Arts New Zealand's annual conference began on Monday at the Ad Astra Hostel at Wanganui Girls College.
Co-organiser Julz Coffey said it was the fourth year in a row the conference had been held in Wanganui, and each year it grew a little bit more.
"About half of the people here have been here before, but we have quite a few newbies as well."
There are five overseas tutors teaching intensive workshops on subjects such as stitching and collaging techniques, design, sculptural embroidery, and mixed media figures.
"It's wonderful that here in Wanganui we can have exposure for overseas teachers," Mrs Coffey said.
Organisers tried to bring different workshops to the conference each year, although they planned to repeat some of the earlier ones as there had been requests for them.
"A lot of the people who come along are professional textile artists in their own right - there's a lot of talent here."
Mrs Coffey said although there was a lot of work being done, the conference was also about socialising.
"It's a really good opportunity for networking and some friendships have been formed that go beyond the conference."
The conference finishes on Friday with an exhibition open to the public. All are welcome to the Ad Astra Hostel lounge [entrance from Anzac Parade] from 2pm.